So I've been doing much research in the way of marshmallows lately, in prepartion for the homemade mallows we will soon be serving with our hot chocolate at Trophy. I have long been denied the enjoyment of a mallow, as marshmallows these days are made with gelatin--a big no no for vegetarians as it is derived from animal hide and bones. Jennifer informed me over a curried meal last night, however, that marshmallows were originally named for the plant: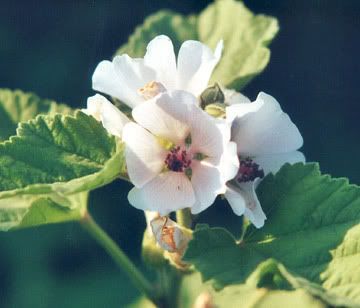 "The traditional recipe used an extract from the mucilaginous root of the marshmallow plant, a shrubby herb (
Althaea officinalis
), instead of gelatin; the mucilage performed as a cough suppressant." (Wikipedia) It is possible to make marshmallows suitable for vegetarians by making them the traditional way, using powdered marshmallow root, egg whites, cane sugar, and vanilla extract, although powdered marshmallow root may be difficult to obtain. Ah well, I guess I will have to stick with marshmallow fluff. Speaking of fluff, when was the last time I had a fluffernutter? Hey-zeus those are tasty! There was actually legislation against the serving of fluffernutters in schools in Massachusetts. What is the world coming to when it tries to deny its children the enjoyment of a fluffernutter sandwich? Utter madness.
What we need now is a fluffernutter cupcake. We could even go all out and have a sandwich-come-cupcake day: tuna melt cupcake, hame & cheese cupcake, the possibilities are as endless and bottomless as my iron-clad stomach.